The best way to enjoy wine tasting is to be at the vineyard and winery with the winemaker, learning the history, enjoying the beauty, and sipping with friends – and that's exactly what happens when wine tasting in Excelsior Springs, Missouri.
DISCOVER WINE TASTING MAGIC IN EXCELSIOR SPRINGS
Searching for the best wine vacation in the midwest? Excelsior Springs is a hidden wine tasting gem! As part of the Northwest Missouri Wine Trail, not only is it home to one of the most unique natural mineral springs in the world – once known as "the world's greatest collection of mineral waters" – but this little city is the best wine destination because the history is mesmerizing, the people are fantastic, and the quality of the winemaking will certainly impress you. Conveniently located northeast of Kansas City near I-35 (and I-70) and less than an hour from the Kansas City airport, it's easy to stay and enjoy the entire weekend tasting Missouri wine varietals, local craft beers and handmade distilled spirits (not to mention incredible food with perfect wine pairings). So here are YOUR FIVE TOP REASONS to go wine tasting in Excelsior Springs, MO:
1. FENCE STILE VINEYARDS & WINERY
Picture yourself at a premium wine tasting with plenty of room to relax wherever you like. At Fence Stile Vineyards & Winery, the Loft Red is very approachable, the forward fruit Vignoles is extremely popular, and the Reserve Chambourcin is more than smooth and full of body. Whether you're sipping at the counter, laughing at a table near the windows, partying by the fire pit outside, or quaffing down in the caves with their exclusive "57 Club", you're sure to find somewhere special to savor the time with a glass of wonderful wine. Picnics are welcome! Don't forget to ask about the wine tour ($35/person) with their exceptional winemaker, Stephen. It's totally worth it! Also, meet the owner, Shriti, say 'hello' to the vineyard manager, Shawna, and discover the special Fence Stile story. Check their website for hours and events and please feel free to call ahead: (816) 500-6465.
2. WILLOW SPRING MERCANTILE
Imagine the most adorable gift shop with the biggest selection of Missouri wines available anywhere in the state. That's the Willow Spring Mercantile! They literally seem to have every local wine, beer and spirits you could ask for (and some you didn't even know existed). Much of the store is stocked with plenty of great gifts to take home and reminisce about your delightful trip to refreshing Excelsior Springs. And if that wasn't reason enough, this specialty shop contains a delicious Basement Bistro (here's the menu) featuring exquisite wine pairing dinners each and every month (featuring more local Missouri wine). You'll love meeting the owners, Jim and Daphne, because they truly love talking about Excelsior Springs and sharing their passion for creating unique culinary events. Visit their website to schedule a dinner or call ahead for more information: (816) 630-7467.
3. VAN TILL FAMILY FARM WINERY
If you're looking for local award-winning wine, visiting Van Till Family Farm Winery is an absolute must. First of all, many visitors consider their Missouri Norton Reserve 2013 one of the best Norton vintages in the entire state. So it should come as no surprise that their very knowledgeable wine tasting host, Stephen (yes…a different Stephen), will be extremely helpful in helping you choose which of their unique 20+ wines to experience. In fact (during our tasting), he explained that our goal was to end up relaxing with pizza in the wine garden to enjoy a full glass of Van Till wine that has been perfectly paired with one of their many amazing wood-fired pizzas. (We had heard the rumors about their pizza – and we confirm them to be true!) Fan-tastic! Be sure to visit their website for more information and events or call ahead: (816) 776-2720.
4. FOUR HORSES AND A DOG VINEYARD AND WINERY
Wine tasting at Four Horses And A Dog Vineyard And Winery is probably the most fun wine tasting experience you can have without breaking the law. I'm telling you, that place is a total party! And the whole time we were there it was packed with people having a great time. Had I not known better, I would have thought we were on an island at a club that never closes. The owners and their wives are Stephen (another Stephen!) and Jeanine and Mike and Cheryl; all four of whom can be found either talking with guests are serving at your table. At less than a year old, Four Horses And A Dog has a very bright future as a local hot spot. And if you're lucky, Mike will let you have a taste of wine – straight from the tank! They also serve sangria, mimosas, beer and hard cider as well as sausage, cheese, and snacks in small picnic baskets. Visit their website or call ahead: (816) 582-4648.
5. PAYNE JAILHOUSE BED AND BREAKFAST
Eventually, you'll want to relax in your room and get yourself a good night's sleep. I can think of no better place in Excelsior Springs than at the historic Payne Jailhouse Bed & Breakfast. Conveniently located in the center of town, the historic Hall of Waters is right down the street while Broadway avenue is just a few blocks away. Offering three clean and comfortable rooms (plus the main house kitchen for an excellent breakfast) you'll have the pleasure of being served directly by the owners, Mark and Anna Sue. Not only will you love your cozy room, but you"ll treasure the comfortable feeling you get the moment you meet these friendly and helpful owners.
Excelsior Springs is a great community! Everyone we met and talked to (including establishment owners, winemakers, servers and managers) seemed to know quite a bit about each other's businesses and were willing to help out and guide our journey in any way possible. In fact, Mark is helping to launch a new local brewery, Dubious Claims Brewing Co. and Anna Sue is more than willing to share her insightful travel tips because she also owns a travel agency, Itchin2GoTravel. Truly, the amount of free Missouri wine tasting information we collected on this trip should have a price tag! So don't miss coming here. Be sure to visit their website and call ahead to reserve your room right now: (816) 582-6798.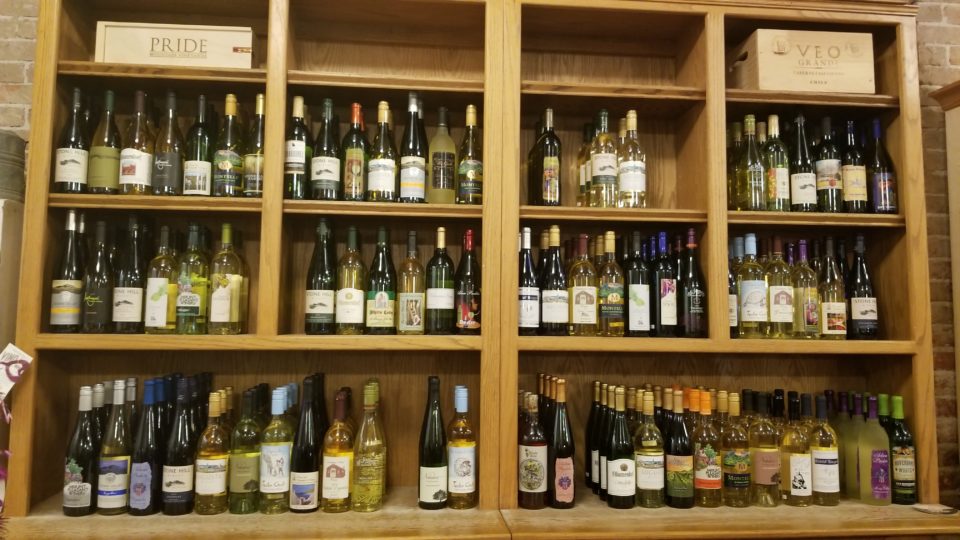 TOP 5 REASONS TO GO EXCELSIOR SPRINGS WINE TASTING
Congratulations! Now you can tell all of your friends the top five reasons why you all need to go wine tasting in Excelsior Springs, MO. You've got the names of the locations, the phone numbers, and the websites, and best of all, the names of the people to meet. And I guarantee that if you take advantage of all five of these reasons and meet the owners and the winemakers, you too will be talking about the magic of Excelsior Springs. Be sure to visit the Hall of Waters and experience the tranquility within. Also be sure to visit The Elms Hotel & Spa and experience for yourself a brief (and classic) travel back in time. There's plenty of information that can be found at Visit Excelsior Springs Missouri website and for more information about Missouri Wine Trails, visit MissouriWine.org. Thank you for your time and we hope you fall in love with Excelsior Springs!
Oops! There's only one major thing missing… The Chamber Trolley wine tours! We hear that The Excelsior Springs Area Chamber of Commerce operates all-inclusive trolley wine tours that take guests to all of the wineries featured in this blog post. It's a great way to experience them all without the worry of driving. The Chamber Trolley will even pick up and drop off guests at any of the Excelsior Springs local accommodations (Elms Hotel, Payne Jailhouse, Inn on Crescent Lake). Simply visit Facebook.com/EStrolley or EStrolley.com to learn more about the unique transportation they provide to experience the local wine scene.
COMMENTS WELCOME! 
Did you like this? Please provide your comments below. Thank you!
Where Are We Tasting This Year?
"Impeccably Paired – Tasting For You."
Share Impeccably Paired: