Friday, November 6th – Day 1
OUR Introduction to the Annual Dubuque Food & Wine Event
To our great fortune, I happened across the 3rd Annual Dubuque Food & Wine Event while researching weekend destinations for our next getaway. One of my goals was to try to stay within an 8-hour or less drive of Kansas City, MO, but also truly find something special and unique to fill the weekend. And that's when I found the Hotel Julien Dubuque (as recently seen on 'The Bachelor'). I had previously looked at B&B's in Galena, IL, and then Dubuque, IA (since Jay has family in that area). And that's when I discovered the Hotel Julien Dubuque had a package weekend deal, which included two tickets to a Food & Wine event (right up our alley), so I booked it!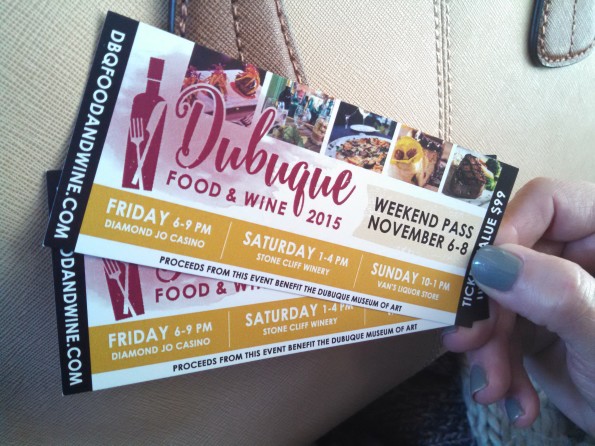 We had no idea what to expect, but we were excited at the prospect of what we were about to experience. We hopped into the hotel shuttle around 6:00 p.m. on Friday night and had a quick 5-minute drive to Diamond Jo's Casino on the Mississippi River.  The event was held in the Mississippi Moon Bar which is inside the casino towards the back. And it turned out to be a perfect venue for roughly 200 people.
Since it is hard to carry a wine glass (or two) AND plates of food (plus, good seats are limited) we decided to quickly grab a booth so we could dive right in.  First, we took turns going to each of the featured restaurants tables for gourmet food, consisting of small plate tastings from: Caroline's Restaurant, The Copper Kettle, L.May Eatery, Pepper Sprout, & Woodfire Grille.  Our favorite ended up being the small bite of Beef Short Rib Stroganoff With Potato Dumpling from Woodfire Grille. (Jay had about half a dozen of those before the night was over.)
But there was also prosciutto, lobster cakes, other small pork bites, various cheeses, and olives, plus other small desserts including mini cheese cake and blackberry cobbler. It was a great event, and could have easily continued for an hour longer than scheduled.
THE BEST OF PART 1 OF THE DUBUQUE FOOD & WINE EVENT 2015
The event coordinators were wise to place the four wine tables and five food tables sparsely about so that people would not be on top of each other while in line, and for the auditory background, we got to enjoy the live musical atmosphere created by Kristina Castenada and Shawn Healey. While we sipped, chatted and ate, we felt transported to a new location – a marathon, red wine competition married with a local taste temptation.
Each table had anywhere from 10 – 12 wines to choose from: champagnes, whites and reds (and even ports) – a real, well thought-out mix. And the retail value of the wines ranged all the way from $11.49 a bottle to $109.99, so the ability to compare was not only fun, but sometimes glaringly obvious (and after 10 or 20 samples, that can be really helpful).
For both of us, the clear winner of the night was Beaulieu – George de Latour Cabernet Sauv. (of course, it was the $109.99/bottle). We also favored Rodney Strong Symmetry Red Blend ($45.99/bottle), Beringer Private Reserve Cab ($92.99/bottle) and the champagne Mumm Cordon Rouge ($42.99/bottle). And Jay really enjoyed several Port tastings, with his favorite being Graham's 10 Year Old Tawny Port ($31.99/bottle). Another good lower-cost winner was 2009 Highlands Zinfandel ($33.99/bottle), but as you can see, most bottles came at somewhat of a premium. And that's a lot of great value to pack into one tasting – out of a wine list that easily exceeded 30 other bottles! So we really felt lucky trying the more expensive stuff that we might not normally buy on our own.
Unfortunately, the evening ended as quickly as it began. Before we knew it we were back on the shuttle and headed back to our hotel (after stopping off at a few slot machines to see if our luck had continued…) But alas. This event exceeded our expectations, we had a wonderful experience, and we highly recommend it to anyone within striking distance. Only in its third year and still in its infancy, any wine lover is sure to share the same sentiment. It hasn't gotten too big yet and as long as they limit the number of guests to the low hundreds, we believe this one will be great for many years to come.
DON'T STOP NOW – READ PART 2: SATURDAY BEER AND SOUP TASTING!
All bottles were made available for tasting by Van's Wine & Liquors located just across the Mississippi River in East Dubuque, IL. And if you attended the event, you qualified for purchases of approximately 10% off per bottle. We didn't buy anything on this go around, but we sure were tempted (and the staff was pretty good at asking us if we were sure about going home empty-handed.)
Share Impeccably Paired: