Join Us As We Discover Local Wine Tasting Near Kansas City – The Missouri Wine Trail In Lafayette County
Discover Local Wine Tasting Near You
We truly love wine tasting, and we wish we could afford to travel every weekend to exotic and far away wineries, but obviously that's not practical. So…what can we do? Should we 'Google' our city and state plus "wine trail?" Luckily, the answer is "Yes!" To discover local wine tasting, simply do a 10-second Google search near you. You should try it.
We live near Kansas City, with Kansas to the west (kansaswinerytrail.com), Missouri to the east (missouriwine.org), Nebraska a good 100 miles to the northwest (senewinetrail.org), and the state of Iowa at least 130 miles to the north (iowawinetrail.com). So that means for us to plan a local wine tasting day trip, it's either Kansas or Missouri. We recently went to Wichita for an event, and also visited a few local Kansas wineries on a weekend, so on the last Saturday of June this year, we chose to head east. Missouri Wine Trail, here we come!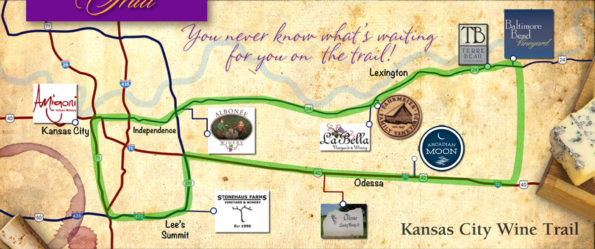 Exploring The Missouri Wine Trail
There's a lot of great local wine tasting information to be found online, especially with keyword phrases like "wine trail", "wine tour", "wine tasting," and "wineries." That's how we found The Official Site of Missouri Wines – created by The Missouri Wine & Grape Board. MissouriWine.org is an informative and helpful website, detailing nine distinct local wine trails across the state of Missouri. Since The Kansas City Wine Trail features a handful of wineries within a reasonable travel distance for one day, we created a loose idea of a local wine tasting plan for our trip. Since our sights were all set within Lafayette County, we discovered another helpful website: WineriesofLafayetteCounty.com. But no matter how you get your local wine trail info, you can easily find much of it online to help you set a course for your own improvisational local wine tasting tour! (Think of it as a history lesson – containing an adult rewards system).
Our goal was to be wine tasting by noon, which would allow at least one hour per winery to experience and enjoy at least four new locations. The day before, I bought an assortment of crackers, three types of cheeses, two kinds of meats, plus fruit and olives. That morning, we prepped our "cheese and charcuterie board," packed it in a soft-sided cooler on top of ice (with extra bottles of water) and headed out for a quick breakfast sandwich and coffee. The weather forecast was to be in the low nineties little to no rain, so we were excited to have a fun day trip planned!
Local Exploring And Experiencing The History In Lafayette County
After driving about 30 miles east on interstate 70, we took exit 37 near Odessa, then drove north on Highway 131 for about 10 miles; and just south of Wellington (only a couple of miles south of the Missouri River), we turned right onto Highway 24 and continued east. Only another a half hour and we'll be at our first winery!
What a pretty drive on such a sunny summer day – past sparsely laid homesteads and healthy fields of corn and soybeans. We've had a lot of rain lately in this section of the U.S., which helped give our part of the Midwest that magic feeling of "God's Country." It happens as soon as you exit the interstate that your senses begin to pick up all the authentic vibrations from the scenic state roads, rolling local highways, and easy-going rural living. Feeling free as a bird, we glided past the green trees and spacious properties decorated as festive summer wedding locations, as if two lovers' entire clans from all over the map might gather there again for another memorable evening under the full bright stars.
That's about the time we noticed posted signs indicating our travels to be along the trail of the original Lewis and Clark Expedition. We talked about how their monumental exploration is intimately tied to our nation's history, and that grabbed a hold of our imagination – which might explain why we were tempted to veer off and find out more about the Battle of Lexington State Historic Site. But we kept driving towards our final destination, and as we pressed on, thinking about seeing the same types of trees and sky as our great explorers from decades past made me even more curious to find out more about the trials and successes of our local winemakers. And that was making me thirsty…
Please Come Back To Impeccably Paired
Enjoying this so far? If so, please join us next month for our wine tasting reviews of Baltimore Bend, Terra Beau, LaBella, Fahrmeier Family Vineyards and Arcadian Moon.
Impeccably Paired – Where Are We Tasting This Year?
Impeccably Paired – Other Favorite Links & Events
Impeccably Paired – Tasting For You.
Share Impeccably Paired: